Catering to the requirements of medical fraternity by offering Tablets (Uncoated),Tablets (Coated), Capsules, Dispersible Tablets, Dry Syrups and others.

About Us

There is immense requirement of expertise and excellence in the production of pharmaceutical products. We, Merit Organics Ltd. possess both these factors and hence are providing quality products of international standards to our clients. Since our inception in 1992, we have worked diligently by emphasizing on quality. We believe that quality is an essential part of every product manufactured by us,rather than just a mere test. Keeping in mind that we serve to the sensitive health care sector, we take utmost care of the quality of our pharmaceutical products.

Being a responsible manufacturer, exporter and supplier, we make no compromise in developing most effective and economical products. OurCapsules, Tablets, Liquid Serums, Ointments, Injectable and Veterinary Products own a reputed brand name in the medical community for improving the health of millions of life. The high quality standards of these products along with our unmatched services have assisted us in acquiring a good amount of success in national as well as international realm. Presently, we are a leadingexporter in Nigeria, Iran,Iraq, Dubai, Australia, Ukraine, some parts of south America and many others.

We proudly bear the ISO 9001:2000 certification and the membership of Pharmexcil. In addition, we are known for our ethical, OTC & branded generics.All our pharmaceutical products are formulated in our manufacturing unit that is spread over 5800 sq. mt. We have successfully achieved the honor of being the India's biggest pharmaceutical manufacturer by incorporating the high technology production facilities, full fledged quality control units and a team of a well experienced personnel.Our team comprises regular and contractual staff, all of whom are working in three shifts. Every activity at our production unit is carried out under a strict and quality manufacturing plan, which is implemented by them.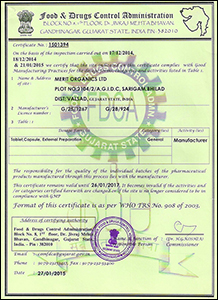 Read More